Hello gentlemen.  And ladies.
Look at your website's current social media icons.
Now look at mine!
Now back to YOUR social media icons
Now BACK TO MINE!
Sadly, your socia media icons are not mine. But they can….
Hold on.
What was that?

You have absolutely no idea what I'm babbling about?
Sigh.
Okay, listen.
I haven't yet had my morning coffee, okay?   So making a video right now with me in my nice fluffy warm LL Bean housecoat instead of my lacy black net.goddess lingerie would be almost as dramatically attention-grabbing as my currently empty, sad, lonely coffee cup.
Thus, instead I'm doing a visual write up along the lines of:
May I now continue?
Thank you!
As I was saying, now LOOK AT MINE!
Sadly, your social media icons are not mine.
But if you ditched the common boring "must imitate the other 39,392 bloggers on this planet!" way your icons currently look, they can be as breathtakingly *stellar* as mine.
Look down.
Back up!
Where are you?
You're on my site, Barbara Ling.com, looking at incredible shiny glossy social media icons
your

site could right now be entrancing your visitors with!

What's in your hand?

Back at me!

I have it!
It's your mouse!  Getting ready to click on my shiny social media icons below to tell your friends about this post after you've realized how much fun you're having reading and learning from it!
Look again.
The icons are now on YOUR SITE!  Compelling YOUR visitors to promote…YOU!
Anything is possible when you think outside of the box.
Which what I'm about to show you…….right now.  🙂
* * * * * * * * * * * * * * * * * * * * * * * * * * * * * * * * * * * *
Gosh that was fun to write!
But I digress.  🙂
I was moved to write the above after bunches of my wondrous readers contacted me offline to ask me:
"Jeepers Barb, why did you change from SexyBookmarks? Where did you get the new icons?  How did you set them up?  Can I tell my friends about them?"

Well, like my mom always says, if something is going to happen, it's gonna happen to my daughter.
Last week, you see, I discovered that Sexy Bookmarks was smooshilating my Feedburner feed (I learned about it from Feedburner insists that my feed is too big .  FYI, Sexy Bookmarks vs. Feedburner does offer a solution that apparently lets you keep SB in your site).
But after deactivating it, I realized that I had effectively made it impossible for readers to promote my posts.
Not good!
Searching about on WordPress, I came across Light Social which is perfect!  Every individual post gets hyperlinked automatically!
Perfect, except….for one teeny tiny (literally teeny tiny) problem.
The icons they offer – they're teeny-tiny!

They're only 16×16 pixels in size.  ie, they're this:
Now, I don't know about you, but I like it when people notice how to promote my writings.
So I started looking about how I could make those social media icons work for me.
And I realized, it required just this one teeny tiny enhancement:
The default images are stored in the light social plugin plugin directory – if I uploaded NEW social media icon images with the same name, *they'd* be used instead!

So off I went thru the Internet, searching for the most perfect set of free social media icons imaginable.  When I found them, I downloaded them, made sure to choose the 128×128 (but set the size to 75) images, uploaded them, tweaked the plugin code to specify the height and width, and voila!
And you see the result below at the end of me post.
Nice, eh?
So!  If you want some eye-catching social media web icons at the ends of *your* posts, you can do what I did!
It's free, it's easy, and all it requires is finding an social media web icon set that you like.
Which brings me to:
101+ Stellar Exciting Social Media Sets You MUST Witness To Start 2011 Off Right!
Click thru the below and enjoy!
---
---
---
---
---
---
---
---
---
---
---
---
---
---
---
---
---
---
---
---
---
---
---
---
---
---
---
---
---
---
---
---
---
---
---
---
---
---
---
---
---
---
---
---
---
---
---
---
---
---
---
---
---
---
---
---
---
---
---
---
---
---
---
---
---
---
---
---
---
---
---
---
---
---
---
---
---
---
---
---
---
---
---
---
---
---
---
---
---
---
---
---
---
---
---
---
---
---
---
---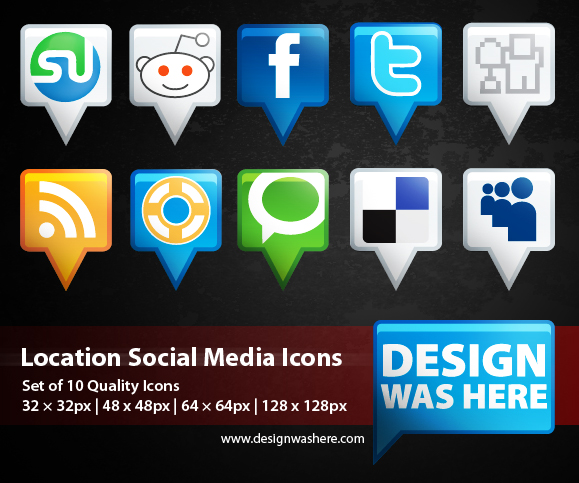 ---
---
---
---
---
---
---
And there you have it.
100 + 7 wonderful social media icon sets you can use right now for free to make your site stand out as it deserves.
So what are you waiting for?  Get inspired today….and then make it happen.
Your future blog's publicity will thank you for it.
Enjoy!
Grow strong,
Barbara Ling